In a June 13, 2023, letter, board members of the Glenwood Springs Citizens' Alliance expressed appreciation to owners of the Rocky Mountaineer tourist train for their efforts to reduce noise and glaring lights when the train lays over in the Glenwood Springs rail yard.
The Citizens' Alliance raised the issue of Rocky Mountaineer's overnight operations in January 2022, after fielding complaints from West Glenwood residents about glaring security lights and noise from diesel generators and idling locomotive engines.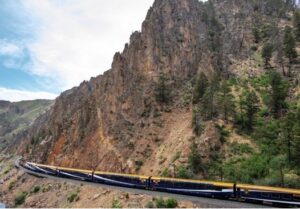 Rocky Mountaineer began its two-day Denver-to-Moab tourist train in 2021, making an overnight stop in Glenwood Springs about four nights a week. The train's season is April to October. While the community welcomed the infusion of overnight visitors, residents whose homes overlook the rail yard complained about the nighttime impacts.
Unshielded security lights used around the train were visible across a wide area in West Glenwood, and residents said they had to close their window blinds to keep out the bright lights.
Rocky Mountaineer also ran diesel generators overnight to power the train's lighting and other electrical needs, and kept the locomotive engines idling whenever nighttime temperatures dipped below 45 degrees. The noise led many to close their windows at night, when they would otherwise open them for fresh air.
Why did the Citizens' Alliance choose to weigh in on this issue?
"It was all about setting a precedent for rail yard impacts that could be exploited by Rocky Mountain Industrials," said Citizens' Alliance President Jeff Peterson.
The primary focus of the Citizens' Alliance is the Rocky Mountain Industrials limestone quarry and the threats Glenwood Springs faces from RMI's proposed mine expansion. RMI's proposal includes trucks hauling crushed limestone to freight trains, which would stand idling in the Glenwood Springs rail yard 365 days a year.
"Rocky Mountaineer was otherwise a welcome entry in our tourist economy, but we didn't want the glaring lights and noise from generators and idling locomotives to be seen as acceptable impacts in our community," Peterson said.
To its credit, the Rocky Mountaineer began efforts to mitigate the noise and lighting problems in late 2021. By the 2022 season, it had installed down-cast security lighting.
It also worked to install high-powered electrical service in the rail yard, called "shore power," in order to eliminate the diesel generators. Supply chain problems slowed this installation, but it was finished in time for the 2023 season.
The shore power has not erased Rocky Mountaineer's need to keep its locomotives idling on chilly nights, although they produce less noise than the generators. Nearby residents have noticed a significant reduction in the train's nighttime noise.
In the Citizens' Alliance recent letter to Rocky Mountaineer, the board stated, "We commend Rocky Mountaineer for the company's efforts and expense to mitigate lights and generator noise.
"The downlighting installed in the rail yard has significantly reduced the light pollution. Tying in to the Glenwood Springs electrical grid for shore power, replacing the generators previously used, has greatly reduced nighttime noise, with the added benefit of cutting carbon emissions."