About the Glenwood Springs Citizens' Alliance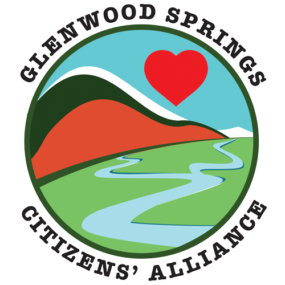 To educate and empower Glenwood Springs residents, businesses and community leaders, through advocacy and action; and to express opinions related to projects or issues that may affect the health and safety of residents, or that may have an undesirable economic or environmental impact to the quality of life in Glenwood Springs.
The Glenwood Springs Citizens Alliance is a 501-c-3 nonprofit organization.
The Glenwood Springs Citizens' Alliance is a nonpartisan group of residents and businesses working to maintain the area as a desirable place to live and visit, now and in the future.
Observing current operations at the quarry and seeking permit compliance.
Tracking RMI's proposal to massively expand its existing quarry operations on public lands.
Analyzing and commenting on the expansion proposal that was submitted to the U.S. Bureau of Land Management (BLM).
Building alliances with key partners.
Educating the local community and the entire state about the impacts of quarry expansion.
Empowering individuals, businesses and organizations to raise fact-based objections and demonstrate unified opposition.
President: Jeff Peterson is a Glenwood Springs native and owner of Iron Mountain Engineering.
Vice President: Heather McGregor is a former print journalist, and a former communications director for nonprofit organizations.
Treasurer: Bob Sommerfeld is a certified public accountant.
Secretary: Ellen Dole is retired from a career as an attorney with the U.S. Department of Housing and Urban Development, serving as HUD Regional Counsel for Region VIII in Denver.
Stephen Bershenyi is a Glenwood Springs native and a former two-term member of the Glenwood Springs City Council. He drives a school bus for Ross Montessori School.
Michael Gamba is a Glenwood Springs native, and a former mayor of Glenwood Springs and two-term City Council member. He is a second-generation owner of Gamba Engineering, a civil engineering firm.
Ginny Minch is a nurse practitioner and ultrasound sonographer at Women's Health at Valley View Hospital.