U.S. Bureau of Land Management Permit Enforcement
When Rocky Mountain Industrials (RMI) first purchased the quarry operation in 2016, U.S, Bureau of Land Management (BLM) officials informed the company that several compliance problems under the federal permit for the quarry carried over from the previous mine operator, CalX Minerals.
BLM gave the company a temporary pass on dealing with permit violations. The agency agreed that the violations could be remedied "within a reasonable amount of time."
In 2018, RMI announced its plans for a massive expansion of the 16-acre quarry, proposing a 20-year mining plan for a quarry that would extend over 321 acres. The controversial plan included proposed remedies for the permit violations.
By July 2019, BLM accepted a much-revised version of RMI's "Plan of Operations Modification." The agency announced plans to conduct an Environmental Impact Statement (EIS) process to review the proposal. BLM rolled out fact sheets, a web page, and plans to conduct five advance studies prior to formally launching the EIS process in 2020.
Mineral examination delayed for years
One key advance study was a mineral examination. It evaluates two aspects of the mining proposal: the chemical composition of the limestone deposit across the proposed mining area, and the prospects for RMI to market the limestone for a narrow range of purposes allowed under the Mining Act of 1872. The end result of the mineral examination is a Determination of Common Variety, or DCV.
BLM officials initially expected to complete the mineral examination and the other advance studies by mid-2020. Over the ensuing months and years, however, completion of the DCV was repeatedly delayed. To date, the document has still not been completed.
The other advance studies are on hold until the DCV is issued, as is any action to begin the EIS process. Meanwhile, RMI continues to operate the quarry.
Escrow account established in 2019
In 2019, BLM initiated a requirement for RMI to enter into an escrow agreement. Under the agreement, RMI must submit limestone sales receipts to BLM on a monthly basis, and must pay funds into an escrow account for the fair market value of limestone products not allowed for sale under the 1872 Mining Act.
Escrow payment amounts:
$1.30 per ton for crushed limestone
$1.50 per ton for rip-rap
$3 per ton for limestone boulders
51 cents per ton for crusher fines
The agreement notes that RMI must provide the reports and payments or be subject to prosecution.
BLM did not inform the public about this agreement. The Citizens' Alliance learned about it through a document request about the agency's dealings with RMI submitted under the federal Freedom of Information Act.
BLM initiates enforcement action in 2022
After six years of out-of-compliance mining operations at the limestone quarry, BLM finally cited RMI in 2022 for failing to address compliance problems.
On Aug. 30, 2022, BLM sent a Noncompliance Order and a separate Notice of Noncompliance to RMI, citing five compliance issues at the quarry.
The Noncompliance Order cited four issues:
Grading and sloping for the mill site and the lower access road are not "within the authorized area in the approved plan of operations." (See aerial map at right.)
The current highwall portion of the quarry does not comply with the approved plan.
Stormwater structures have been constructed outside the approved area.
The mill bench topsoil storage pile is inadequate for future site reclamation and not properly graded.
The separate Notice of Noncompliance focused on RMI's occupancy of the limestone mill facility. The mill sits at the foot of the quarry and is outside the permit boundary.
BLM's notices did not address another important compliance problem. RMI continues to mine, process and sell limestone from public lands while lacking the proper approvals to sell limestone for "common variety" purposes such as road base, boulders and rip-rap.
RMI's first proposed plan modification found to be incomplete
RMI submitted a modified plan of operations on Oct. 7, 2022. After reviewing the plan, BLM deemed it incomplete.
In a letter issued Nov. 9, 2022, BLM gave RMI specific instructions for revising its proposal. Those instructions called on RMI to provide:
A description of operations with maps showing plans for mining, rock handling, road access, spills, stormwater management, power and water services, and a schedule of operations from start through closure.
A complete plan for reclamation of the entire quarry area, including backfilling the open pit, grading, revegetation, containment of toxic materials, and demolition of buildings.
An interim management plan for the quarry during seasonal closures.
The BLM letter noted that if RMI failed to meet that new year-end deadline, the agency would take action to suspend all or part of the quarry operations, and may suspend or permanently cease operations at the mill facility.
Rockslide causes second proposed plan modification to be incomplete
RMI submitted a second plan of operations proposal on Jan. 6, 2023. While BLM officials were reviewing the second submission for completeness, a massive slope collapse occurred at the quarry on Jan. 18, 2023.
Because of the rockslide, BLM viewed RMI's second submission as incomplete.
The agency sent a letter to RMI on Feb. 3, 2023, stating, "Due to changed conditions resulting from a large rockslide incident … BLM does not have sufficient information to review or potentially approve RMI's plan modification as submitted, and therefore has concluded that the plan modification is incomplete."
The BLM letter cited the MSHA order requiring RMI to "provide a written plan to recover the benches and face stability in the quarry."
BLM expects this "yet unknown" recovery plan "will significantly change the scope of RMI's plan modification." The letter also notes, "BLM expects this change will result in an increase in disturbed acres."
BLM affirms second plan modification as incomplete, issues Amended Noncompliance Order
Following up on its Feb. 3 letter, BLM issued an Amended Noncompliance Order to RMI on March 6, 2023. The agency noted, "Because the operation's current conditions substantially deviate from the approved plan of operations, BLM has determined that this is a significant violation of its surface management regulations."
The amended order also notes that if RMI fails to comply with the order by a mid-April deadline, BLM "may issue a suspension order for all or part" of the quarry operation.
Under this new order, RMI must take a third run at submitting an acceptable Plan of Operations Modification. RMI must update its proposed plans for:
Acreage to be used for the quarry and its road system, both short-term and long-term.
Blasting and removing rock from highwall benches.
Managing stormwater.
Quarry reclamation, including an interim management plan that prevents further damages to the quarry area during times when the quarry is under temporary closures.
Monitoring operations at the quarry.
RMI must also comply with enforcement actions imposed by the federal Mine Safety and Health Administration and the Colorado Division of Reclamation, Mining and Safety. (More info here.)
BLM also repeated its intent, stated in previous letters to RMI, to seek public comment prior to making a decision on whether to approve RMI's proposed Plan of Operations Modification.
RMI submits third proposed modification to its Plan of Operations, except for the required geotechnical report
RMI submitted its third attempted Plan Modification proposal in April, 2023. BLM completed its "completeness" review May 12.
The agency deemed the plan complete except for the absence of a required geotechnical report, needed to address the changed conditions at the quarry following the Jan. 18 slope collapse.
BLM will delay its full review of the proposed plan until the geotechnical report is submitted. The report was initially delayed by inclement weather in March and April. In early June, RMI told BLM that the report would be submitted by June 9.
By mid-June, however, RMI decided the split the geotechnical report into two parts:
An analysis of the rockfall and potential contributing factors to the slope failure.
Recommendations for mining above the rockfall and how to do that to prevent future slope failures.
RMI submitted the first part of the geotechnical report on July 7. According to BLM, the company said its geotechnical consultant "needed to conduct another site visit before finalizing the second part."
As with RMI's previous submissions, BLM has not released this document for public view.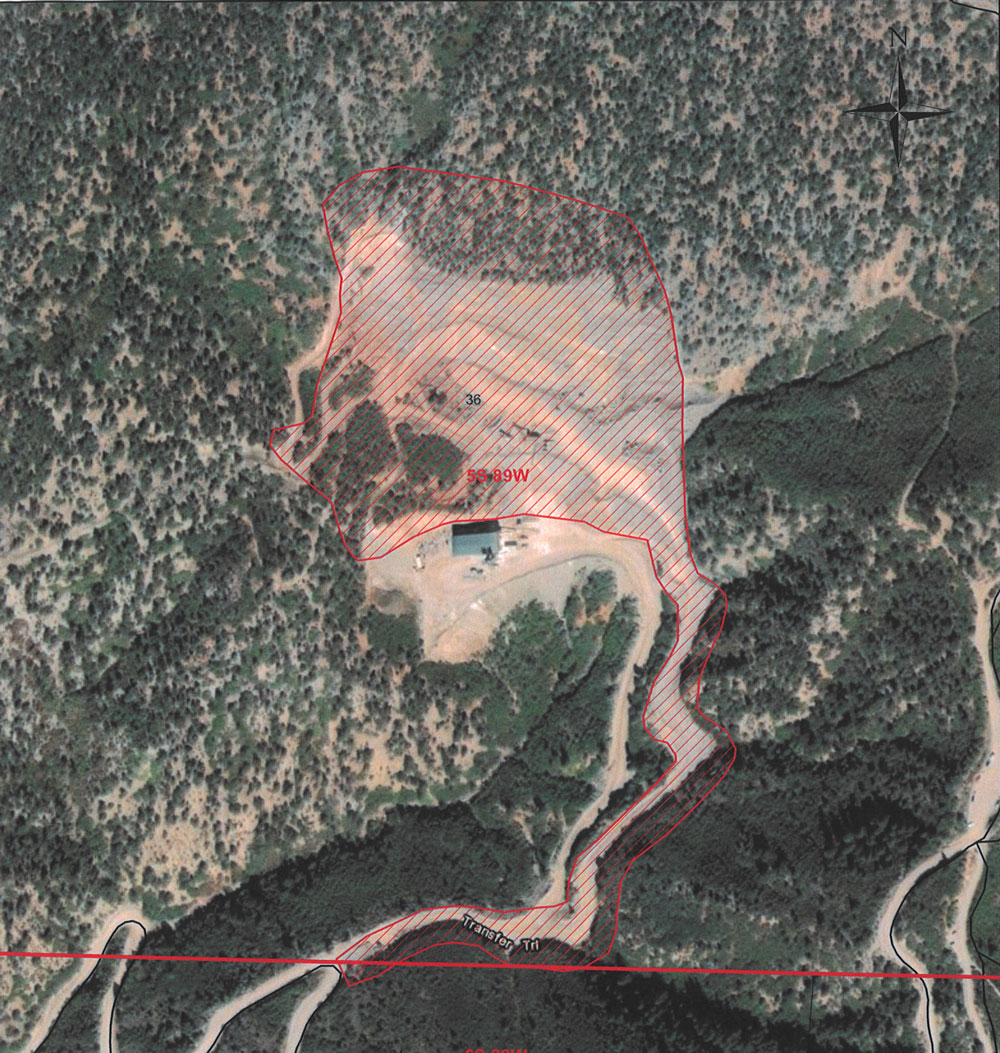 The red cross-hatched area layered onto this aerial photo shows the boundaries of the limestone quarry as authorized in RMI's federal permit.
The lower bench of the quarry, the mill facility and the lower access road (to the left of the permitted access road) are all outside the federal permit boundary.
Image from U.S. Bureau of Land Management, 2022
Timeline of BLM enforcement actions
August 30, 2022: BLM issues Notice of Noncompliance and Noncompliance Order.
October 7, 2022: RMI submits first proposed Plan Modification, BLM starts 30-day review.
November 9, 2022: BLM deems proposed Plan Modification incomplete, issues letter to RMI ordering a new submission with greater detail.
January 6, 2023: RMI submits second proposed Plan Modification, BLM starts second 30-day review.
January 18, 2023: Quarry slope collapse occurs.
February 3, 2023: BLM deems second proposed Plan Modification incomplete due to "changed conditions" caused by slope collapse, issues interim letter to RMI.
March 6, 2023: BLM issues Amended Noncompliance Order, calling quarry operations "a significant violation" of BLM regulations.
March 7, 2023: BLM confirms that RMI's second proposed Plan Modification is incomplete, issues letter ordering a new submission addressing slope collapse issues.
April 2023: RMI submits third proposed Plan Modification, but required geotechnical report is delayed until late May.
May 12, 2023: BLM deems third proposed Plan Modification complete, except for the absence of a required geotechnical report. BLM will delay its full review of the proposed plan until the geotechnical report is submitted.
June 13, 2023: RMI informs BLM that the geotechnical repoprt will be split into two parts.
July 7, 2023: RMI submits first part of its geotechnical report.
Enforcement process documents archive
BLM Noncompliance Order 3809, Aug. 30, 2022
This document cites the four problem areas in RMI's current quarry operations
BLM Notice of Noncompliance 3715, Aug. 30, 2022
This document focuses on the crusher mill being located outside the mine permit area.
BLM response to RMI's 1st proposed Plan Modification, Nov. 9, 2022
BLM response to RMI's 2nd proposed Plan Modification, Feb. 3, 2023
BLM Amended Noncompliance Order, March 6, 2023
BLM revised response to RMI's 2nd proposed Plan Modification, March 7, 2023
Stay informed about the public review process
BLM is handling its new effort to bring RMI quarry operations into compliance as a "major plan modification with a limited scope."
Because this is a "major modification," revisions to the plan of operations will be subject to a public review process.
Stay informed about the process.
Join our mailing list to receive information about the permit process as it moves forward.
We'll keep you informed about when and how to engage in the public review process.