The Rocky Mountain Industrials Mine Expansion Proposal
In 2018, Rocky Mountain Industrials (RMI) shocked the Glenwood Springs community by announcing its plans to vastly expand the existing limestone quarry. The quarry is located on public lands that are managed by the U.S. Bureau of Land Management. The quarry lies directly north of the city of Glenwood Springs, and is accessed via Transfer Trail.
The quarry was operated on and off since it was first developed in 1982 by Mid-Continent Resources. At the time, Mid-Continent was also the operator of a complex of five underground coal mines in Coal Basin, west of Redstone. The company mined and pulverized the quarry's high-grade limestone and used it to control methane gas in the coal mines.
The coal mines closed in 1992, and the quarry went dormant for several years. Mid-Continent later sold the operation to CalX Minerals.
RMI purchased the quarry operation in 2016 from CalX Minerals. Prior to making the purchase, BLM advised RMI that several aspects of the quarry operation were not in compliance with the federal mining permit.
With the massive expansion plan, RMI proposed resolving longstanding noncompliance issues at the existing quarry as part of its proposal for the expansion.
Key elements of the mine expansion proposal
Expansion of the permitted 15.7-acre quarry to a 321-acre mine and total permit area of 447 acres.
The existing quarry and expansion are on public land.
Blasting and crushing 5 million tons of rock per year over the next 20-plus years.
Operations seven days a week, year-round.
Development of a wider haul route along Transfer Trail, from the mine to Highway 6.
Hauling truckloads of rock from the mine site to Highway 6, up to 450 round trips per day.
RMI intends to load the limestone onto rail cars and ship the material across the Continental Divide to its under-development rail load-out facility east of Aurora.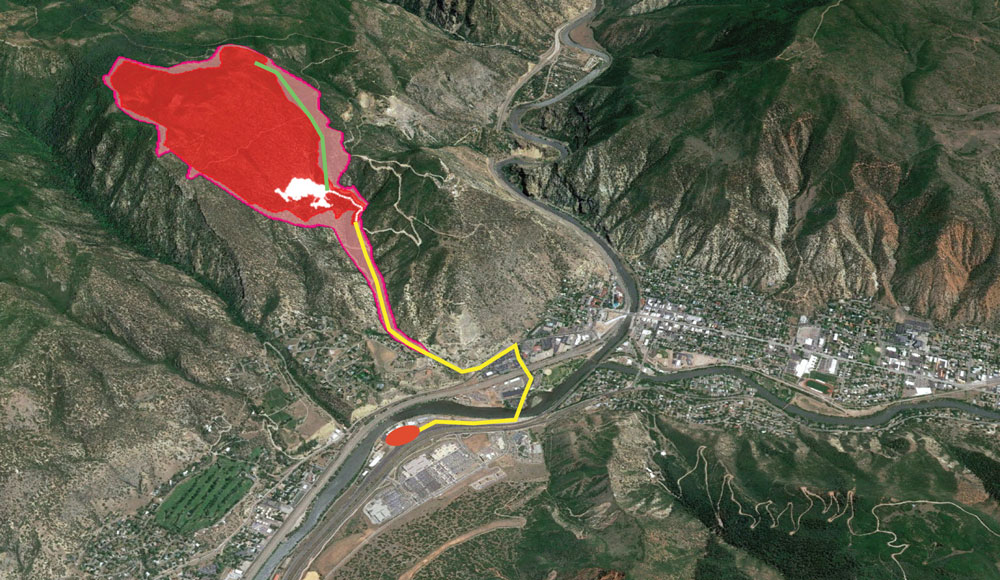 Red area: Proposed 321-acre mine expansion area. (excavation 175 feet deep).
Pink area: Proposed 447-acre mine permit area on BLM-managed public land.
White area: Existing quarry, about 20 acres. (Quarry permit is for 15.7 acres.)
Yellow line: Proposed truck haul route on Transfer Trail and Traver Trail, across Highway 6 onto Devereux Road, to the rail yard along the Colorado River.
Learn more about the mine expansion proposal.