A Colorado Court of Appeals panel issued a 33-page ruling on Feb. 16, 2023, affirming Garfield County's authority to impose a seasonal restriction on mining operations at the limestone quarry operated by Rocky Mountain Industrials (RMI).
The court also said that Garfield County may seek from RMI reimbursement for its costs in this case.
"The Court of Appeals clearly saw through RMI's false claims, and instead upheld Garfield County's authority to enforce its environmental regulations on a mining operation on federal land," said Jeff Peterson, president of the Glenwood Springs Citizens' Alliance.
"Garfield County's prohibition against winter mining operations, and its enforcement of other permit violations, is clearly supported by case law and by common sense," Peterson added. "We applaud the Garfield County Commissioners for standing up to RMI, and we are pleased to see the county's authority upheld by the Court of Appeals."
The appellate court ruling comes one month after a 300-foot-wide slope collapse occurred at the quarry, prompting the federal Mine Safety and Health Administration to issue an order shutting down quarry operations until a safety plan is approved.
A three-judge Court of Appeals panel heard oral arguments in the case on Jan. 24, and issued its ruling just three weeks later. RMI was represented in the case by Chris Bryan with the law firm Garfield & Hecht. Garfield County was represented by special counsel at Arnold & Porter.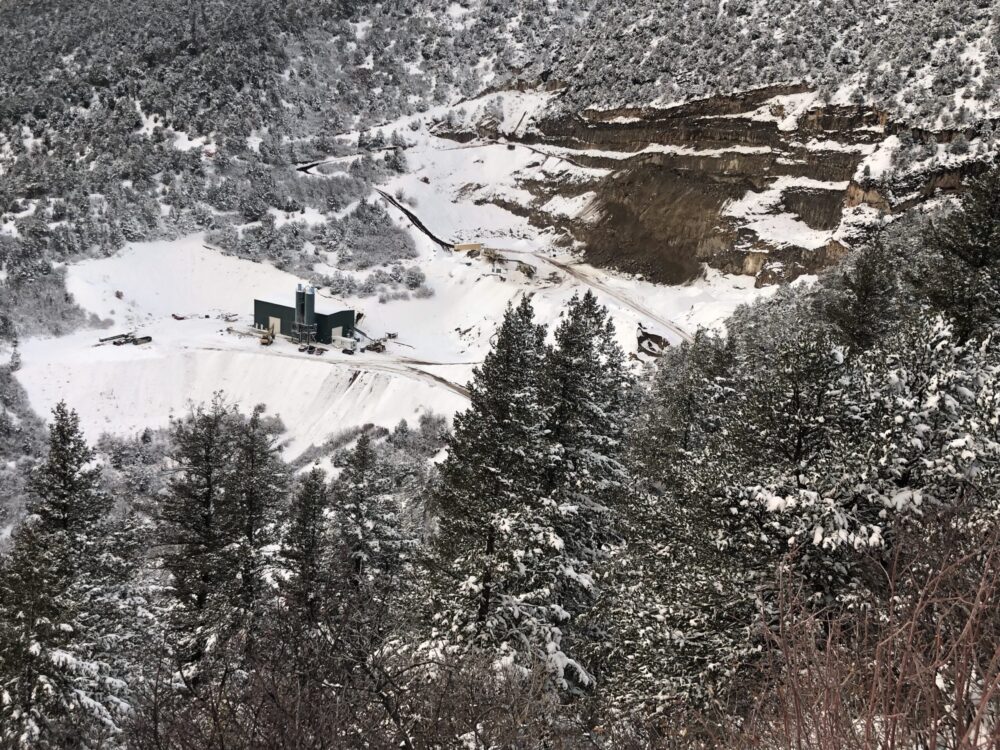 Winter operations at the Rocky Mountain Industrials limestone quarry, seen on December 8, 2022, prior to the Jan. 18 slope collapse. Garfield County's special use permit for the quarry restricts winter mining operations from Dec. 15 to April 15. The permit allows trucks to haul out pre-processed material, but prohibits drilling, blasting and rock crushing.
Garfield County's winter closure permit language: "The applicant shall maintain mining and processing hours, exclusive of truck hauling, from 7:00 a.m. to 5:00 p.m. Monday through Friday, and shall not mine or process on Saturday or Sunday; and the months of operation, exclusive of truck hauling, shall be from April 15th through December 15th of each year."
Seasonal closure intended to protect bighorn, deer and elk winter habitat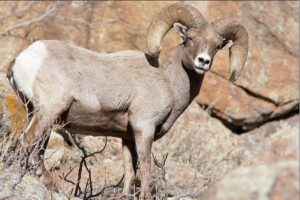 The seasonal closure, included in the special use permit first issued to the quarry by Garfield County in 1982, prohibits drilling, blasting and crushing limestone during the winter months, from Dec. 15 to April 15. The prohibition is intended to protect big game winter habitat on the south-facing slopes in the quarry area.
RMI's disregard of the winter operating restriction at the quarry was one of five permit violations cited by Garfield County in a Notice of Violation issued to RMI in April 2019. The citations came after the Glenwood Springs Citizens' Alliance brought several suspected permit violations to the county's attention in late 2018.
Rather than comply or seek a permit amendment, RMI filed suit against the Garfield County Commissioners the following month.
The City of Glenwood Springs joined the case on the side of Garfield County later in 2019.
District Court ruled in Garfield County's favor; RMI appealed
Garfield District Court Judge Anne Norrdin heard the case and issued a ruling in January 2021 upholding three of Garfield County's citations against RMI, for:
Exceeding the size of its permitted area.
Continuing to operate during the winter closure period.
Failing to adhere to a road maintenance agreement for Transfer Trail.
Again, rather than comply or seek a permit amendment, RMI filed an appeal to the Colorado Court of Appeals in December 2021 over Norrdin's ruling upholding the winter closure restriction.
Winter mining restriction "serves a reasonable purpose"
RMI contended that Garfield County's seasonal closure wasn't supported by any current studies to show that mining disturbed wintering big game. The company also noted that in 2018, the U.S. Bureau of Land Management granted the quarry an exception to the seasonal restriction.
However, the three-judge appellate panel didn't buy those arguments, noting that BLM's exception was just for one year, not in perpetuity.
The court's Feb. 16 ruling states: "The restriction serves a reasonable environmental purpose, is not absolute, and is temporary in effect (only from December 15th through April 15th). For these reasons, we conclude that federal law did not preempt [Garfield County's] ability to impose and enforce the restriction at issue here."
Appellate Court also rejects RMI's due process and discovery claims
Meanwhile, RMI added two new complaints in its December 2021 filings to the Colorado Court of Appeals.
In its appeal, RMI argued that the Judge Norrdin did not allow due process for RMI when she issued a summary judgment in June 2021 essentially closing the case. And the company argued that the district court "abused its discretion" by denying RMI's motion to conduct and compel discovery.
Under the guise of its case against Garfield County, RMI had sought to obtain internal communications from Garfield County, the City of Glenwood Springs and the Glenwood Springs Citizens' Alliance.
The GSCA was forced to defend itself against RMI's attempts to gain access to communications and names of supporters and donors. Judge Norrdin's 2021 ruling rendered the discovery a moot point — irrelevant once she had ruled against RMI on the citations.
The Appeals Court rejected both claims. It noted that RMI has no protected property interest in the quarry to support its due process claim. And since it had upheld the district court's summary judgment ruling, the appellate panel "perceives no abuse of discretion in [the district court's] denial, as moot, of the motions to compel [discovery]."