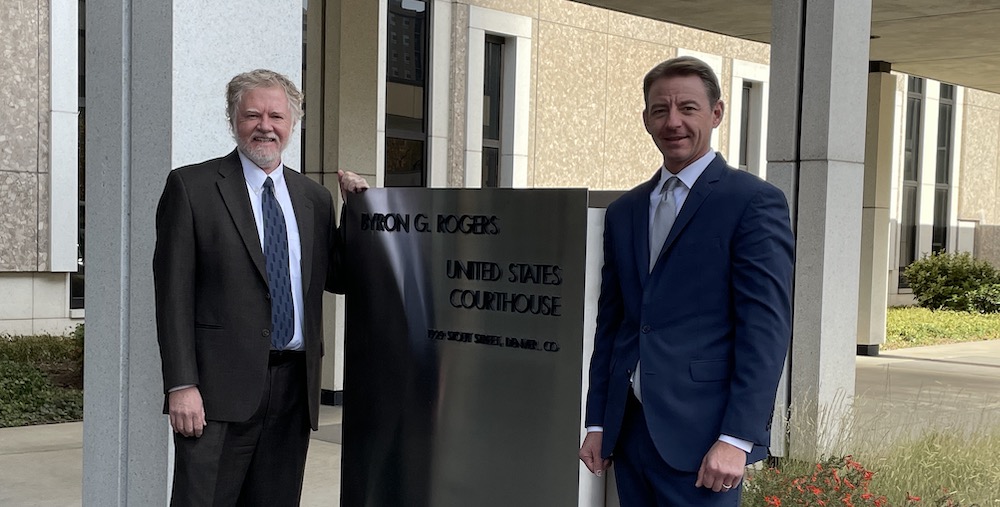 Attorneys Roger Flynn, left, and Jeffrey Parsons with the Western Mining Action Project (WMAP), at the Byron G. Rogers U.S. District Courthouse in Denver. Flynn and Parsons represent the Glenwood Springs Citizens' Alliance in mining litigation. WMAP is a nonprofit based in Lyons; Flynn and Parsons represent the Citizens' Alliance pro bono.
On Oct. 26, attorneys representing the Glenwood Springs Citizens' Alliance and Garfield County argued in a court hearing for a chance to press their case against the U.S. Bureau of Land Management (BLM) for its lax regulation of mining at the Rocky Mountain Industrials limestone quarry.
BLM insists that it hasn't made any formal decisions in its oversight of quarry operations, so the case should be dismissed. BLM's motion to dismiss was the focus of Wednesday's hearing.
U.S. District Judge Charlotte N. Sweeney heard the oral arguments in her Denver courtroom, asked several pointed questions, and said she would try to make a ruling in the next two weeks.
The lawsuit languished for the past year awaiting a ruling from a previous judge on the motion to dismiss. The case was reassigned to Judge Sweeney when she was appointed to the federal bench in August, and she quickly called the hearing to set the matter back in motion.
In the suit, filed in March 2020, the Citizen's Alliance contends that BLM has failed to follow its own regulations for mining on federal lands. (See timeline below.) The suit argues that since 2016, BLM has allowed quarry operator Rocky Mountain Industrials (RMI) to mine and sell limestone for "common variety" purposes that are not allowed under its BLM permit.
The Garfield County Commissioners share these concerns, and joined the case in 2020 on the side of the Citizen's Alliance.
Wednesday's hearing was the first time for the parties to meet in court. Roger Flynn, a mining law expert representing the Citizen's Alliance, gave Judge Sweeney some context to understand the case.
"When the mine was approved in 1982, it was only permitted to sell crushed limestone for rock dust in coal mines. Since then, the coal market on the Western Slope has diminished, and now the quarry is selling limestone for rip-rap, boulders and roadfill. BLM has said, numerous times, that's not permitted," Flynn said.
In 2019, he explained, BLM set up an escrow agreement with RMI, requiring the quarry operator to submit monthly reports with scale tickets and sales receipts and make a monthly payment to the escrow account based on those sales.
The Citizens' Alliance contends the escrow agreement is a binding requirement for RMI to continue to operate, and is an "agency action" that can be challenged in court.
Joseph H. Kim, a U.S. Department of Justice attorney representing BLM, argued that the escrow agreement "only allows continued authorization of extraction of approved minerals."
Flynn countered that the only approved mineral was limestone "rock dust" for coal mines in 1982, and that's not the purpose for which most of the limestone is being mined today.
He noted that since 2019, BLM has said it would complete a mineral examination, which evaluates the limestone deposit and the mining company's sales prospects. That report is still in process three years later, with no sign of being completed.
Suneeta Hazra, representing Garfield County from the law firm Arnold & Porter Kaye Scholer, underscored the point.
"BLM is saying, 'There's nothing anyone can do, that we can sit on our hands forever.' Yet BLM regulations say there are steps they need to take that the agency simply is not taking," Hazra said.
"BLM wants to have its cake and eat it too," Flynn told the judge. "In Glenwood Springs, trucks are rolling through neighborhoods every day. Who gets that escrow money is not what's important. It's the on-the-ground, direct impact of the mining that affects the community."
Judge Sweeney asked the attorneys, "What's the incentive of the government to handle it this way?"
Flynn replied, "BLM feels this is mining as usual. They seem to be unwilling to tell the company 'No.' "
Flynn also argued that the escrow agreement has illegally allowed mining to continue for years without BLM analyzing the impacts of the quarry on the Glenwood Springs community.
Hazra argued that BLM bypassed its responsibility to "make sure the benefits of the mining are not outweighed by the risks to the public and the environment."
Timeline of the Citizens' Alliance and Garfield County lawsuit against BLM
2018-2019: GSCA uses the Freedom of Information Act (FOIA) to obtain a trove of documents from BLM, including records of limestone sales, letters between BLM and RMI, and notes from calls and meetings.
February 5, 2020: GSCA sends formal letter to BLM citing permit violations at the quarry.
March 10, 2020: GSCA files lawsuit against BLM in U.S. District Court, contending that BLM has illegally authorized continued mining of common variety minerals.
March 12, 2020: U.S. Department of Justice, representing BLM, files motion to dismiss the case.
May 22, 2020: Garfield County Commissioners file motion to intervene on the side of GSCA. Motion approved on Nov. 2, 2020.
March 24, 2021: GSCA and Garfield County file a request to BLM for various information regarding quarry operations, focused on non-compliance issues.
April 23, 2021: U.S. Department of Justice replies for BLM by objecting to nearly all the requests for information.
July 27, 2021: U.S. District Judge Christine Arguello denies Department of Justice motion to dismiss, but without prejudice, meaning it can be re-filed.
August 31, 2021: Department of Justice re-files motion to dismiss. Briefs arguing for and against dismissal filed in September and October, 2021, by parties in the case.
August 1, 2022: Case reassigned to U.S. District Judge Charlotte N. Sweeney, in light of Judge Arguello's moving to senior status on the bench.
October 3, 2022: Judge Sweeney calls for oral arguments from both sides on BLM's re-filed motion to dismiss.
October 26, 2022: GSCA, Garfield County and the U.S. Department of Justice, representing BLM, make oral arguments before Judge Sweeney on BLM's re-filed motion to dismiss.