RMI proposal to expand limestone quarry still in play; Voices of opposition remain essential
The proposal by Rocky Mountain Industrials to expand its 20-acre limestone quarry above Glenwood Springs into a 320-acre mine is still active, and remains a serious threat to the community's economy and environment.
"We are still working for you, and for everyone who loves Glenwood Springs, to oppose the mine expansion," said Jeff Peterson, president of the Glenwood Springs Citizens' Alliance.
"We are also working to hold RMI and the U.S. Bureau of Land Management accountable for aspects of the current quarry operations that violate county and federal permits," Peterson said.
The limestone mine is running on three separate tracks, making it a complex issue to follow.
RMI is actively developing a rail park in Adams County as an industrial facility to unload the limestone it wants to mine in Glenwood Springs.
RMI's current quarry operations remain under scrutiny in lawsuits.
RMI's mine expansion proposal is slowly moving through the Bureau of Land Management permitting process.
Because things have been quiet for so long, we offer this roundup to bring you up to date. Please know how much we appreciate your support.
ROCKY MOUNTAIN RAIL PARK
RMI is moving forward with development of its 620-acre Rocky Mountain Rail Park in Adams County. RMI obtained final development approvals from Adams County in September 2020 and obtained $77.3 million in financing in March and April 2021.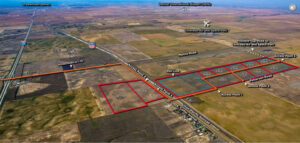 RMI intends to use 120 acres as the rail load-out for the limestone it expects to mine in Glenwood Springs, and subdivide the remainder into lots of varying sizes. It sold an 83-acre parcel in January 2021 to NF Denver LLC, which is registered to Nelson Commercial Properties of Houston, for $10.95 million.
The company provided a few details about the $77 million in financing in filings with the U.S. Securities and Exchange Commission.
In March, RMI reported $12,189,000 in financing to begin construction of the rail yard. RMI's SEC filing did not identify the source of the financing, but tied the deal to the January sale of "the south parcel where their 83-acre, Fortune 500 tenant will reside."
In April, RMI reported obtaining $65,209,784 in bonds underwritten by Piper Sandler & Co., an international financing firm. RMI stated its intent to use $51.2 million to develop infrastructure at the rail park, but did not state its intent for use of the remaining $14 million. Investors funding the bonds included, according to the filing, "BlackRock, JPMorgan Asset Management, Wells Fargo, Invesco and other regional investment funds."
LAWSUITS
RMI's current quarry operations have been the subject of two lawsuits. One case, in which RMI sued Garfield County, ended in June with a court order granting Garfield County's motion for summary judgment. The other, in which the Glenwood Springs Citizens' Alliance is suing the U.S. Bureau of Land Management for failing to properly regulate quarry operations, remains an active case.
• Rocky Mountain Industrials v. Garfield County
In 2019, Garfield County took steps to enforce the county special use permit that governs quarry operations. After a fact-finding period and public meetings, Garfield County issued a Notice of Violation.
The Notice cited five areas of non-compliance. Rather than comply, RMI filed suit against the county, alleging it did not have authority over mining on federal lands.
The case was heard in Garfield District Court in Glenwood Springs. In 2020, the court allowed the City of Glenwood Springs to intervene as a co-defendant.
Also in 2020, RMI served the Glenwood Springs Citizens' Alliance with a subpoena seeking many documents, including written communications between the Alliance and BLM, Garfield County and the City of Glenwood Springs, as well as lists of its donors and its more than 2,500 supporters. The Citizens' Alliance hired legal counsel and successfully prevented disclosure of its records.
In January 2021, the court upheld three of the county's citations. In June 2021, the court granted Garfield County's motion for summary judgment, ending the lawsuit and rendering moot RMI's subpoena against the Citizens' Alliance.
"We are pleased that Garfield County prevailed in this case," said Peterson. "The judge's rulings show that Garfield County was on solid ground when it cited RMI for permit violations. Garfield County clearly has the authority to enforce the terms of the permit."
• Glenwood Springs Citizens' Alliance v. U.S. Bureau of Land Management (BLM)
Since 2018, GSCA members observed continuing mining activities at the RMI quarry that we believe are not allowed under RMI's federal mining permit.
GSCA raised these issues to BLM, and filed Freedom of Information Act requests to BLM in 2018. A full year later, BLM released documents showing that RMI had been mining and selling large quantities of "common variety" limestone from public lands without the required mining permit or sales contract.
In a letter to BLM in February 2020, GSCA detailed BLM's failure to properly regulate RMI's mining activities. BLM, however, confirmed its decision to allow RMI's current operations to continue.
In March 2020, the Citizens' Alliance filed suit against BLM in U.S. District Court, charging the agency with failing to properly regulate mining activity at the RMI limestone quarry.
Attorneys Roger Flynn and Jeffrey C. Parsons with the Western Mining Action Project of Lyons, a non-profit public interest law firm specializing in mining issues in the West, represent the GSCA pro bono in the case.
The suit is focused on BLM regulation of RMI's past and current mining operations. It does not address the mine expansion proposal.
Later in 2020, the court allowed Garfield County to intervene and join the GSCA in its legal battle with BLM.
"We appreciate the support of the Garfield County Commissioners as we pursue this case against BLM," Peterson said.
Meanwhile, BLM affirmed its hands-off policy in a January 2021 fact sheet, stating that it "does not consider RMI's removal of limestone under the approved plan of operations to be a noncompliance issue."
Peterson disagrees. "RMI is operating its quarry on public lands owned by the people of the United States. BLM has an obligation to make sure day-to-day quarry operations meet federal permit requirements," he said.
BLM PERMITTING PROCESS
For more than a year, the Citizens' Alliance has been waiting for BLM's Colorado River Valley Field Office in Silt to release an important analysis of the limestone deposit.
The analysis is called a mineral examination, and the results are published in a report called a "Determination of Common Variety." The mineral exam considers geologic evidence to assess the deposit, and evaluates RMI's potential customer base and profitability.
The results of this analysis will help determine the level of federal environmental review and BLM authority over the current and future operations, and whether or not the company will be required to pay the U.S. Treasury for the limestone it extracts now and in the future.
BLM has already pledged to conduct a full Environmental Impact Statement (EIS) review process for the proposed mine expansion. The agency has posted RMI's full proposal, called a "Plan of Operations Modification," on its website. (Scroll down the page to "Mid-Continent Quarry Information" section.)
In 2019, the agency laid out plans to conduct the mineral exam and four baseline studies on other resource issues prior to launching the EIS process. In the January 2021 fact sheet, BLM said it now expects to begin the EIS process in fall 2021, but notes that the timing could shift again.
BLM is conducting a separate Environmental Assessment first to determine the environmental impacts of drilling five groundwater monitoring wells in the mine expansion area. That EA is also delayed, the fact sheet states, because of the delayed mineral examination.