Just like you, we are eager to close out 2020, the year of life upside down. Before we chuck that calendar, let's take a look back at what we accomplished and the things that did – and did not – happen in the year past.
FEBRUARY: Bus shelter ads, Family Fun Fest, and Witches' Pantry Cave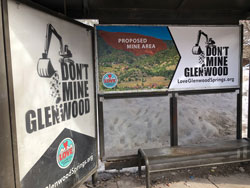 Advertising aimed at locals and visitors launched Feb. 2 with "Don't Mine Glenwood" banners in two RFTA bus shelters, one at the bottom of Traver Trail on Highway 6 and the other on Grand Avenue in front of City Market. We'll maintain shelter advertising in front of City Market in 2021.
In an effort to inform a broader audience about the proposed mine expansion, GSCA hosted the Family Fun Fest on Feb. 8 at the Glenwood Springs Community Center. The half day of games, art projects and lunch for children, teens and parents drew about 200 people.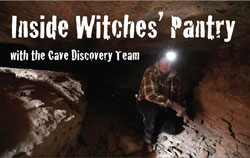 In January, cave explorers announced their discovery of a previously unknown cave on the Transfer Trail mountainside north of Glenwood Springs. They called it Witches' Pantry. Eager to hear their story, GSCA hosted "Inside Witches' Pantry with the Cave Discovery Team" on Feb. 29 at the Glenwood Springs Library. The event drew 80 people.
MARCH: Citizens' Alliance sues BLM for failure to regulate quarry operations;
Business endorsements top 300
GSCA filed suit on March 10 against the U.S. Bureau of Land Management (BLM) for the agency's failure to properly regulate mining activity at the Rocky Mountain Industrials (RMI) limestone quarry.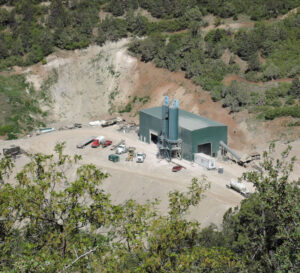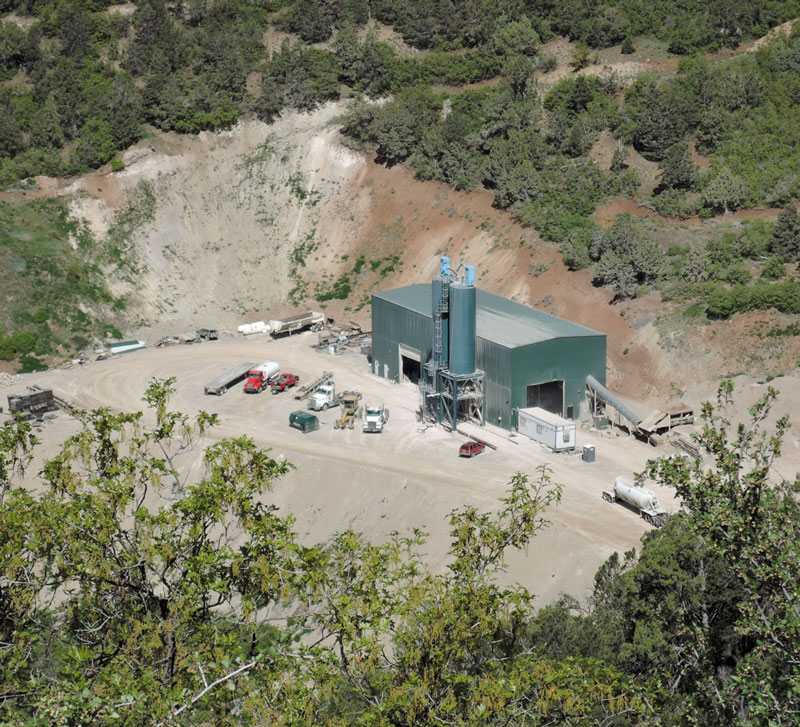 The lawsuit contends that since 2016, BLM allowed the company to mine and sell certain types of limestone that are not allowed under the company's federal mining permit.
"BLM is allowing RMI to mine limestone for road base, rip-rap and similar uses without the required permit and material sales contract," said Jeff Peterson, president of GSCA.
In May, the Garfield County Commissioners filed a motion to join the case in support of GSCA. In November, U.S. District Judge Christine Arguello approved that motion. No further action has occurred, but stay tuned for movement in the coming months.
Meanwhile, GSCA reached a goal of collecting endorsements for our cause from more than 300 businesses and organizations. As of year-end, we tallied 310 such endorsements, along with 2,870 individual endorsements. More endorsements are welcome. Click here to add your endorsement.
APRIL: Covid-19 forces cancellation of events
Early in 2020, GSCA project teams were planning a benefit art show for April, a large community rally in May, and a strong presence at Strawberry Days in June. Then the Covid-19 pandemic struck. These plans were scuttled, but we hope to revive these events later in 2021.
MAY: Garfield County adopts 1041 mining regs; City of Glenwood Springs joins lawsuit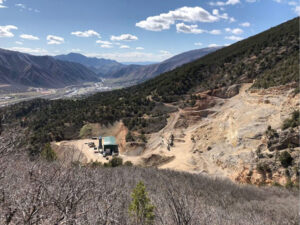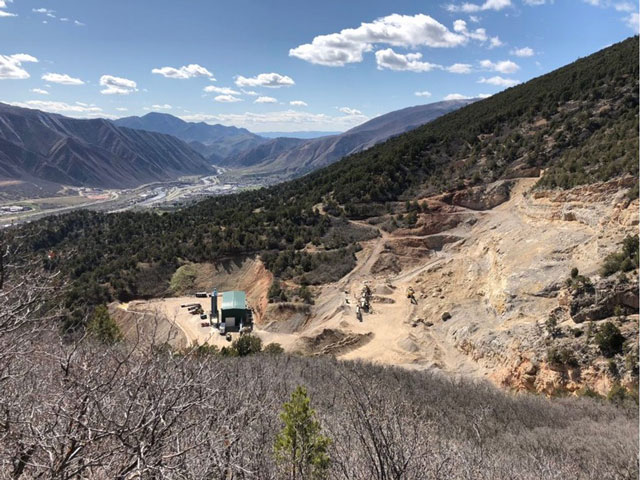 On May 11, the Garfield Board of County Commissioners voted 3-0 to enact new standards for mining operations using Colorado's 1041 review process. The standards set detailed expectations for mining companies to earn permit approvals and run mining operations. RMI would have to prove it could meet these standards to obtain a county permit for its proposed mine expansion.
In 2019, RMI filed suit against Garfield County in reaction to the county's efforts to enforce the special use permit in place for quarry operations. That suit continues in Garfield District Court. On May 8, Judge Anne Norrdin approved a motion filed by the City of Glenwood Springs to join the case in support of Garfield County.
JULY: Denver Post reports on RMI's proposed Front Range industrial rail port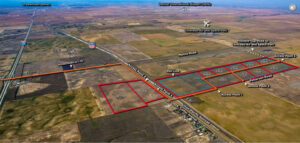 On July 6, the Denver Post reported that RMI had received preliminary approval from Adams County to build a 600-acre industrial rail port about a mile north of I-70. The company would use the port, which would be adjacent to the Union Pacific Railroad tracks, to offload the limestone it wants to mine in Glenwood Springs. Read the article here.
AUGUST: LoveGlenwood activates English-Spanish translation
Our efforts to reach out to the Latinx community with Spanish-language materials resulted in a full and accurate translation of the LoveGlenwood website. We are using the Google Translate service, and were able to fine-tune translations on each page with the help of GSCA supporter Liz Velasco and her company, Global Language Services. Look for the English-Spanish toggle in the upper right corner of the website.
OCTOBER: I Spy Energy video focuses on mine expansion proposal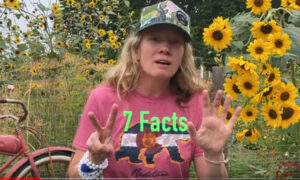 Video producer Emily Beck's video blog "I Spy Energy" took a fun look at the not-so-fun impacts of mine expansion proposal. "Glenwood Springs is justifiably defying this monstrosity," says Beck. Her 6-minute episode breaks down the mine proposal into seven basic facts, using football fields, pickup trucks, haul trucks and freight trains to show just how big and obnoxious the mine would be.
Watch the episode here.
JULY … SEPTEMBER … STILL PENDING: BLM goes silent on mineral exam, test wells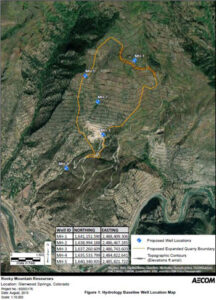 The year began with intense activity by BLM on two fronts, and we expected to see further action on these items in spite of the pandemic. In play are:
BLM's mineral examination of the limestone deposit. This study assesses the mineral composition of the limestone deposit and its value on the market, which will determine whether the mine falls under the 1872 Mining Act.
Environmental Assessment process to evaluate the proposed drilling of five test wells in the mine expansion area. BLM was expected to release a draft EA report and take public comment, prior to issuing a final EA and decision.
BLM has not taken any public action on either of these items. We expect to see movement on these fronts in 2021.
DECEMBER: Purchase of air monitors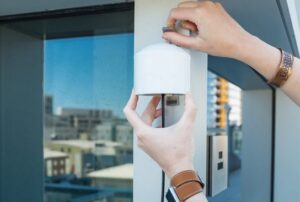 Air quality impacts of the proposed mine have been a concern from the beginning. We learned about PurpleAir monitors, which are an affordable means of monitoring air quality, after observing the impact of summer 2020 wildfires. The GSCA purchased four monitors, to be installed in January at key locations near the current limestone quarry and haul route. These monitors will establish a baseline of data tracking air quality in the area.
JANUARY: Ready for action in 2021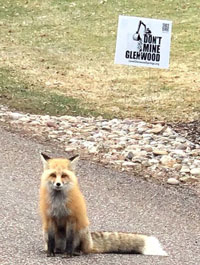 We feel we made the best of 2020, in spite of pandemic limitations on outreach. We begin 2021 in a strong position, and are fully prepared for the continued defense of our community against the mine expansion proposal.
To show your support for the cause, please consider planting a "Don't Mine Glenwood" yard sign on your property, place a "Don't Mine" or "Love Glenwood" sticker on your vehicle, or wear one of our long-sleeve or short-sleeve t-shirts.
Yard signs and stickers are free, available for pickup at Summit Canyon Mountaineering, 205 Sixth St., and Treadz, 812 Grand Ave. T-shirts can be ordered here, and we have plenty in stock.